2. The Nag's Head
This wonderful, poky little pub is just a short distance from the shopping district of Harrods and Knightsbridge, but is a completely different world. Just reaching it feels like a discovery, with its location down a quiet little mews. Once you stoop inside, you'll find a cluttered assembly of portraits, bric-a-brac, pewter mugs, and curiosities, and Adnams on tap. This is where you come to get a sense of the public house as it was like centuries ago – and woe betide the person who ignores the mobile phone ban. As befits the old school nature of the place, there doesn't seem to be an official website.
53 Kinnerton St, SW1X 8ED
3. The Grenadier
Built in 1720, the Grenadier was originally used as an officer's mess for the Foot Guards regiment. It became a pub in 1818, and it is rumoured that the Duke of Wellington used to pop in for refreshments. Some also say it is haunted by the ghost of a former soldier who was murdered after cheating in a game of cards. In more recent years, Madonna chose to come here for a post-gig celebration, and the pub's cosy interior remains the haunt of many a socialite looking for a traditional English pint and pub lunch.
18 Wilton Row, SW1X 7NR
www.taylor-walker.co.uk/pub/grenadier-belgrave-square/c0800/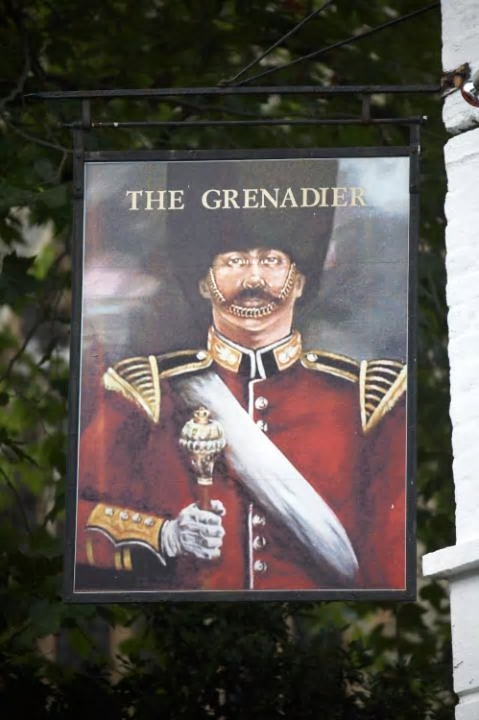 The Grenadier
4. The French House, Soho
This Soho institution has played a strong historical role, although as the name suggests, its influence has been felt more on the other side of the Channel. Ironically, the first known landlord was a German, Herr Schmidt, but he was deported after the outbreak of the First World War. During the Second World War, the pub was used as a meeting place for members of the French Resistance, including General de Gaulle. Later, its bohemian clientele included journalist Jeffrey Bernard, and Suggs from the band Madness. The pub retains a distinctly Gallic flavour today, serving alcohol in French measures. Traditionalists should approve of the absence of a television and its mobile phone ban.
49 Dean St, W1D 5BG
www.frenchhousesoho.com
5. The Dog and Duck, Soho
Another well-known Soho watering hole with great literary associations, the Dog and Duck was where George Orwell used to drink. It has an ornate Victorian interior – the pub is Grade-II listed and noted for its lavish tiling and grand mirrors. In its previous incarnation on the same site (the current pub was built in 1897), John Constable and Dante Gabriel Rossetti were apparently regulars, and the owners boast of a visit from Madonna: clearly the singer has good taste in traditional English pubs.
18 Bateman Street, London, W1D 3AJ
www.nicholsonspubs.co.uk/thedogandducksoholondon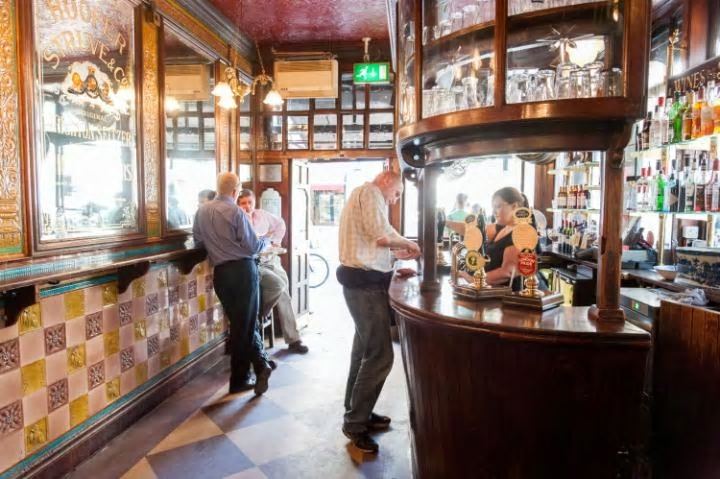 The Dog and Duck
6. The Cross Keys
One of the most distinctive places in Covent Garden, often noted for the striking foliage around its façade. Within, it's a far cry from the all-too-common homogenous pub chain, with a fantastic clutter of ornaments and memorabilia – there's even a napkin said to have been signed by Elvis. It's a defiantly traditional pub, which tends to be used by locals.
31 Endell Street, Covent Garden, London, WC2H 9BA
www.crosskeyscoventgarden.com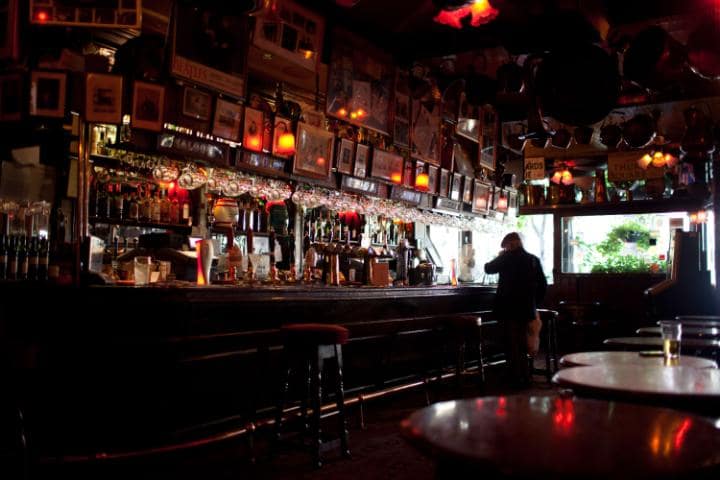 The Kross Keys
7. The Lamb and Flag
This has a good claim as Covent Garden's most historic watering hole, and retains much of its traditional charm. Tucked down an alleyway – which was once notorious as the site of bare-knuckle fighting – this is an enormously popular pub, where drinkers have included Dickens, and the 17th-century poet John Dryden. In fact, the latter was apparently the victim of an attempted murder nearby. By way of consolation, the upstairs room is now named after him. You may find you need to make your way there up the narrow wooden staircase to escape the crowds at the bottom. The pub often puts on entertainment, and is decked out in bunting, on St George's Day.
33 Rose Street, London WC2E 9EB
lambandflagcoventgarden.co.uk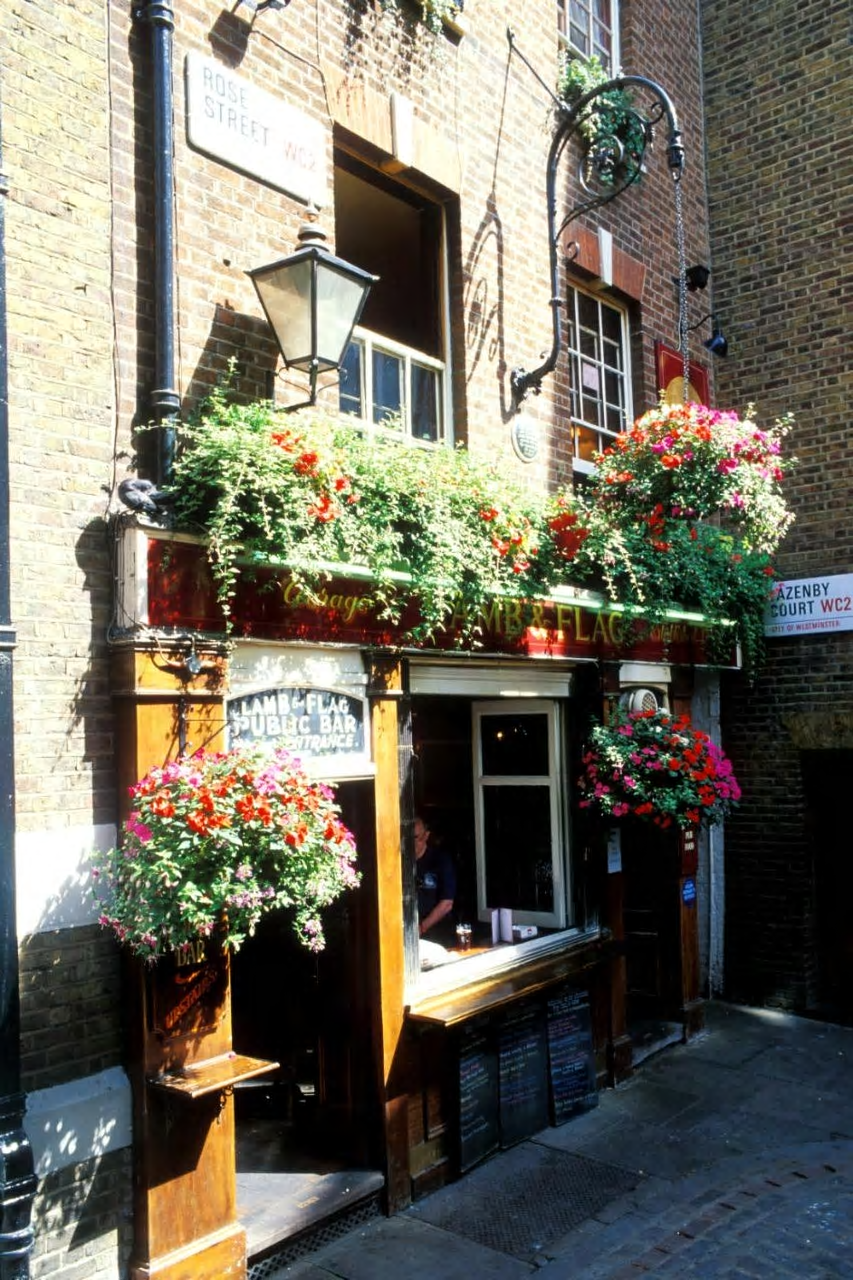 The Lamb and Flag
8. The Seven Stars
One of the few places in the area to survive the Great Fire of London, the tiny Seven Stars pub now has more than four centuries of history behind it. Located just behind the Royal Courts of Justice, it is a natural stomping ground for the pin stripes of the legal profession. Unassuming from the outside, it's a traditional pub through and through within, and has a good range of real ales. Given its size, don't expect to find much space – try to avoid lunch time and the post-work rush.
53-54 Carey St, London WC2A 2JB
9. Cittie of Yorke
A Sam Smith's pub (with a very good value, but limited, beer selection), the Cittie of York dates back to 1430, although the present building was built in the Twenties. And what a building it is. There are three different bars, though the one at the back is perhaps the most striking - a grand hall with a long bar, towering ceilings, and vats stashed to one side. It is Grade-II listed, and recommended by CAMRA (The Campaign for Real Ale).
22 High Holborn, London, WC1V 6BN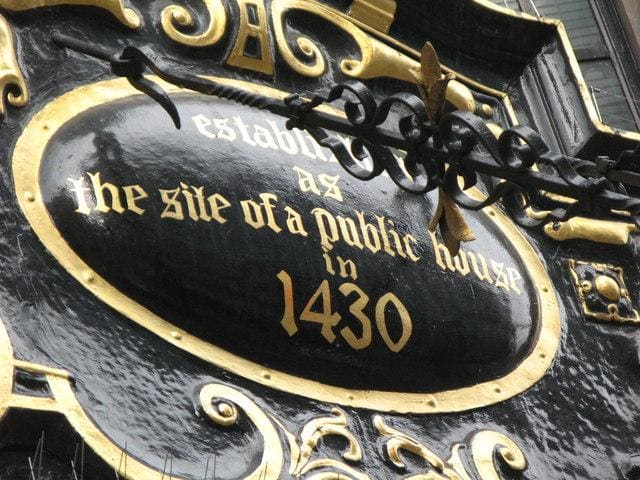 Cittie of Yorke
10. The Lamb
This has a Victorian-style interior – although the pub is actually much older – and many associations with the Bloomsbury set; Dickens is also thought to have drunk here (among many other places). Strikingly, its "snob screens" are still in place, there's a varnished horse-shoe shaped bar, as well as a polyphon (the predecessor to the gramophone) on display. English Heritage describes the pub as "an exceptional piece of Victoriana". It's a Young's pub, and its character is beautifully maintained.
94 Lambs Conduit Street
www.youngs.co.uk/pubs/lamb
11. The Crown Tavern, Clerkenwell
Lenin used to drink at The Crown Tavern – or the Crown and Anchor as it was then – before revolutionary matters took him to Russia. It is thought that he may even have conferred with Stalin on site. More recently it was the setting for a scene from Notes on a Scandal, starring Judi Dench and Cate Blanchett. There are a good range of draught beers on offer.
43 Clerkenwell Green, EC1R 0EG
www.thecrowntavernec1.co.uk
12. Ye Olde Mitre Tavern
One of the most difficult to find of all the pubs listed here, but it is well worth the effort. It's unashamedly traditional (no TVs), and long may that continue. Previous clientele are rumoured to have included Elizabeth I (one story goes that she danced around a cherry tree that is still there). The current incarnation was built around 1772, although there had been a pub on the site since the mid 1500s. It is actually technically still part of the Diocese of Ely, Cambridgeshire, a bizarre quirk due to its origins as a tavern for the servants of the Palace of the Bishops of Ely, which was once based here.
Ely Court, Hatton Garden, Holborn, London EC1N 6SJ
13. Ye Olde Cheshire Cheese
On every list of historic pubs in London, and with reason: the warren-like Ye Olde Cheshire Cheese is an absolute treat. Countless literary grandees and journalists – from Samuel Johnson and Dickens to the Fleet Street hacks of the 20th century – have occupied a nook or cranny in its labyrinthine interior. Although very much on the tourist trail, it is big enough to cope. Rebuilt in 1667 after the Great Fire – a date flagged boastfully on the sign outside - it's another Sam Smiths pub which means it's cheap, but without a great beer selection. Oh, and if you find yourself in one of the cellar bars, you won't get a mobile phone reception, completing your escape from the daily grind.
145 Fleet Street, EC4A 2BU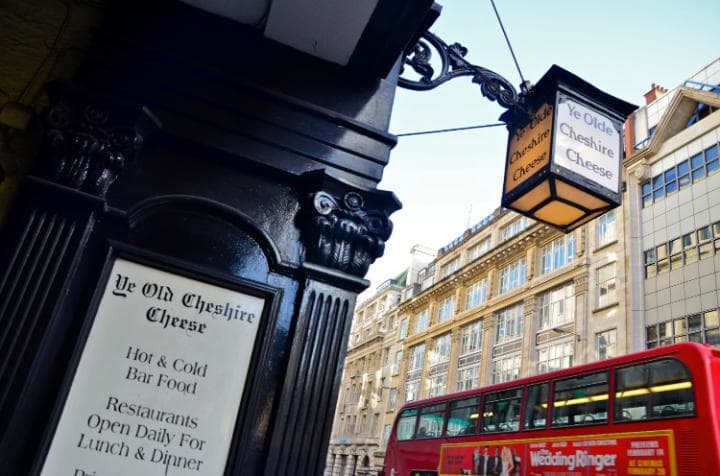 Ye Olde Cheshire Cheese
14. The Viaduct
The last surviving Victorian gin palace in London, the Viaduct opened the same year (1869) as the nearby viaduct. It is opposite the Old Bailey (where Newgate Prison once stood). The story that its beer cellars are former cells of the prison may be a myth, but even so the pub is a great stop for history buffs. Elegantly curving on a corner, it has Fuller's ales on tap and a noteworthy interior, particularly its etched glass panels (the nearby Princess Louise also has striking examples), and a series of large portraits representing agriculture, banking and the arts.
126 Newgate Street; EC1A 7AA
viaducttavern.co.uk
15. The Black Friar
Now strangely exposed on a very busy thoroughfare, the wedge-shaped Black Friar was once much more tucked away. It was going to be demolished along with the surrounding buildings until John Betjeman, later poet laureate, stepped in and campaigned successfully to save it. Few would argue with that now; little prepares you for the extravagance of its religious-themed art nouveau interior. It makes you wonder what the planners were thinking…
74 Queen Victoria Street, EC4V 4EG
www.nicholsonspubs.co.uk/theblackfriarblackfriarslondon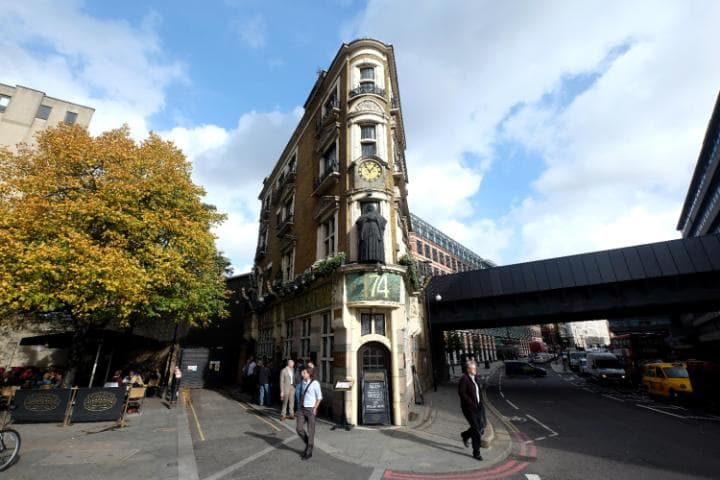 The Black Friar
16. The George Inn
Last but emphatically not least on London ultimate's historical pub tour. The George Inn (being south of the river) is out an a slight limb as far as this tour is concerned, but, along with Ye Olde Cheshire Cheese, is possibly the most striking and atmospheric of them all. Once a coffee house visited by Dickens (it was mentioned in Little Dorrit), it is London's last remaining galleried inn, and the only pub in London to be owned by the National Trust. An older incarnation was destroyed by fire in 1676. There is extensive outdoor seating.
The George Inn Yard, 77 Borough High Street, SE1 1NH
gkpubs.co.uk/pubs-in-london/the-george-inn-pub/
Beyond central London
The following pubs are a little further away, but worth a detour if you have time.
The Grapes
Now owned by Sir Ian McKellen, this tavern (formerly the Bunch of Grapes) has stood on the same ground for half a millennium. It was known by Samuel Pepys, and by Dickens (again). In fact, the opening of Dickens's Our Mutual Friend is supposedly based on it: "A tavern of dropsical appearance… long settled down into a state of hale infirmity. It had outlasted many a sprucer public house, indeed the whole house impended over the water but seemed to have got into the condition of a faint-hearted diver, who has paused so long on the brink that he will never go in at all."
76 Narrow Street, London E14 8BP
www.thegrapes.co.uk
The Prospect of Whitby, Wapping
Another riverside pub oozing history; it claims to be the oldest riverside hostelry in London. It's found on the north side of the Thames and there are terrific views over the river from the rear terrace. Turner is thought to have sketched views from the location.
57 Wapping Wall, Wapping, London E1W 3SH
www.taylor-walker.co.uk/pub/prospect-of-whitby-wapping/c8166/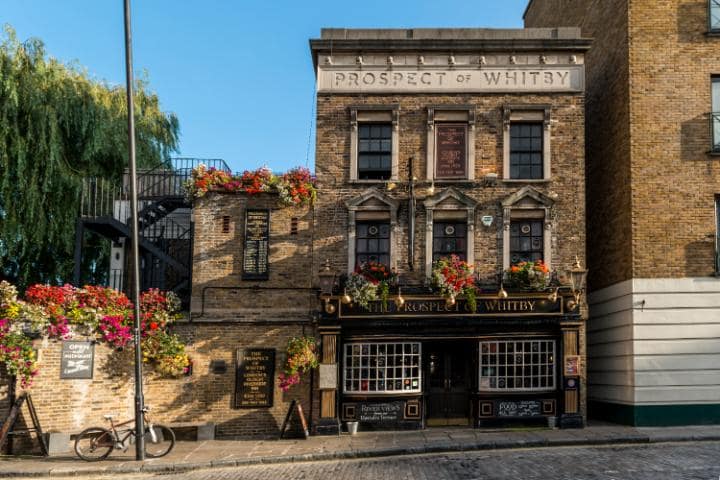 The Prospect of Whitby, Wapping
The Spaniard's Inn, Hampstead
Perhaps the best watering hole in North London for literary associations, this pub once counting the romantic poets John Keats and Lord Byron among its clientele. Dick Turpin is also thought to have been a regular. Inside, there are wood-panelled walls, while high-backed pub pews still give a sense of intrigue.
Spaniards Road, Hampstead, London NW3 7JJ
www.thespaniardshampstead.co.uk
The Flask, Highgate
Few places beat the atmosphere of this distinctive pub sitting at the top of Highgate Hill – particularly its subterranean snugs. Rumoured to have been another haunt of Dick Turpin (the highwayman clearly liked to celebrate a successful bit of swag-taking), the Flask also has a long line of slightly more salubrious patrons. These include the romantic poets of Byron, Shelley and Keats, as well as William Hogarth and various rock stars in more modern times. There's a decent smattering of ghost stories too – it is apparently haunted by a Spanish barmaid who hanged herself in the pub's cellar after her love for the publican was spurned.
The Flask 77 Highgate West Hill Camden London N6 6BU
theflaskhighgate.com
The Cutty Sark, Greenwich
Unbeatable riverside location, a little away from the main tourist hordes of Greenwich (but can still get very busy). Get a seat in the upstairs bay window, and idle your time away watching Thames life drift by.
4-6 Ballast Quay, London, Greenwich SE10 9PD
www.cuttysarkse10.co.uk/
The Trafalgar Tavern, Greenwich
Another striking and very popular riverside pub that boasts Gladstone and Dickens as former regulars. Noted for its splendid Regency architecture as much as its riverside location.
Park Row, Greenwich, London SE10 9NW
www.trafalgartavern.co.uk
The Dove, Hammersmith
Wonderfully located on a bend of the River Thames, The Dove is known as one of the best pubs in London to view the annual Oxford vs Cambridge Boat Race. It has seen many notables dining and supping at its tables, including Charles II and his mistress Nell Gwynne.
19 Upper Mall, Hammersmith, London W6 9TA
dovehammersmith.co.uk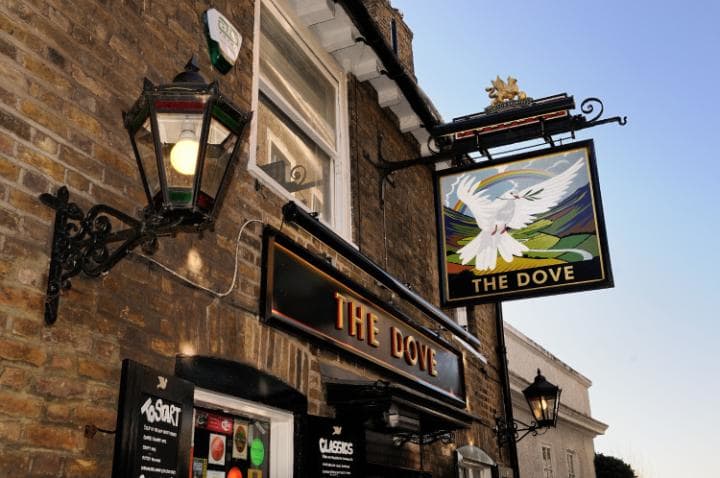 The Mayflower, Rotherhithe
Extremely old, this pub south of the river was a stopping point for the pilgrim fathers as they emigrated to America.
117 Rotherhithe Street, London SE16 4NF
themayflowerrotherhithe.com